Boards & Commissions
Learn More & Get Involved!
The City of Isle of Palms encourages the participation of individuals to assist the City in making our community a great place to live, work and play. The City Council is responsible for appointing members to Boards and Commissions to the City, where citizen participation is vital. Joining a board or commission is one way citizens can volunteer and become involved with their city government by providing ideas and input.
We encourage citizens to review the information regarding each of the various Boards & Commissions to determine if there is an area of interest. The City currently has 26 volunteers in four advisory Boards & Commissions.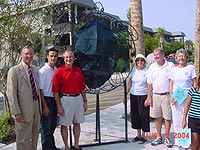 Applications
All applicants must be residents of the City of Isle of Palms and have some background or expertise in the matters covered by the committee. Applications must be received no later than Monday, August 30, 2021.
Apply online today and help make our community continue to be a great place to live, work and play!
Upcoming vacancies
| | | | |
| --- | --- | --- | --- |
| Board or Commission | Vacancies | Term | Last date of Service |
| Planning Commission | 4 | 2 years | 12/31/2023 |
| Board of Zoning Appeals | 2 | 2 years | 12/31/2023 |
| Code Board of Appeals | 2 | 4 years | 12/31/2025 |
---