Animal Control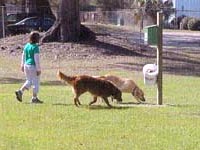 The primary function of Isle of Palms Animal Control (IOPAC) is to ensure public protection from dangerous animals and from diseases that can be transmitted from animals to humans. One of the major concerns is the Rabies Control Program. The state law defining the Rabies Control Program includes requirements for the licensing of dogs, rabies vaccination for pets, animal bite reporting, animal quarantine, stray animal control, and a shelter system. Other services provided to the public by IOPAC include low-cost vaccination clinic given once a year; investigation of animal cruelty; dead animal removal and disposal; promotion of spaying and neutering; and public education.
Organization
Isle of Palms Animal Control is managed by the City of Isle of Palms Police Department. One Animal Control Officer provides the animal services for the Island. The department has a small kennel and cat cages which houses animals until their owners are found.
Licensing and Rabies Vaccination
All dogs of Isle of Palms residents are encouraged to have a current City of Isle of Palms dog license. Licenses may be obtained from the Isle of Palms Police Department at the Public Safety Building at 30 J.C. Long Boulevard from 8AM-5PM seven days per week. To procure a license, owners must provide a copy of proof of a current rabies vaccination for the dog. There is no fee for a dog license. Residents can acquire rabies vaccinations and City dog licenses at the annual "Doggie Day at the Rec" event hosted at the Recreation Center. Licenses should be procured prior to April 1 of each year and are valid until March 31 of the following year.
Animal Bites
Isle of Palms Animal Control responds to all reports of someone being bitten by an animal. An investigation follows, and the animal is either quarantined by the owner or impounded at a local veterinarian for a ten-day period. An animal will be tested for rabies by the Department of Public Health; if, during the quarantine period, the animal has shown signs of having contracted rabies or it is determined at the time of the bite report, it is likely the animal may have rabies.
Stray and Abandoned Animals
IOPAC responds to reports of stray and abandoned animals. An officer is in the field Monday through Friday, 8:00 AM to 5:00 PM An officer is on-call for emergency situations after hours during the week and on weekends. When an officer locates stray animals, every attempt is made to return the animals to the owner. When animals do not have any identification or the owner can not be reached, the animals are impounded and taken to the kennel located at the Police Department at 30 J.C. Long Boulevard. These animals are held for a brief period and then they are taken to John Ancrum SPCA.
Kennel System
IOPAC has a kennel located behind at the Police Department at 30 J.C. Long Boulevard. The kennel can accommodate other animals, such as cats, snakes, and lizards.
Frequently Asked Questions
Where do I go to get an Isle of Palms City license for my dog?

Isle of Palms Police Department, 30 J.C. Long Boulevard, 843-886-6522. Bring a copy of your dog's current rabies certificate. There is no fee per dog for property owners and residents.

Do I need a license if I am just visiting?

No.

When can dogs be on the beach off leash?

From 5:00 AM until 9:00 AM April 1st through September 14th and 4:00 PM until 10:00 AM September 15th through March 31st. Dog owners must have leash in hand, have their dog under voice command and must clean up excrement. At all other times, dogs must be on leash and under complete control, even in the water.

Is there a place where I can take my dog to play off leash?

Yes. A dog park located behind the Recreation Department at 24 Twenty-eighth Avenue.

I have raccoons in my attic what can I do?

Find out where they are entering, then spray "Pine Sol" full strength in a spray bottle in your attic, decks, and up under your house. This will eliminate any scent that was there and keep them away. When you no longer hear activity in your attic, have the holes repaired. Make sure you do not feed animals outside or leave trash cans unsecured.

My neighbor's cat or dog keeps coming over and using my lawn for a bathroom. What can I do?

First, talk to your neighbor and see if there is something he or she can do to prevent this. If this does not work, call IOPAC at 843-886-6522.

My neighbor's barking dog wakes me up in the middle of the night. What can I do?

Notify IOPAC at 843-886-6522 when the barking is occurring and an officer will respond.

I live by a pond and there is an alligator on the bank. What can I do?

Leave alligators alone. State law prohibits killing, harassing, or possession of alligators. If you encounter an alligator over four feet in length and that poses a threat to humans or property, call the Isle of Palms Police Department at 843-886-6522. Animal Control will evaluate your complaint and, if necessary, send a registered trapper to remove the alligator.

I have squirrels or rats in my attic. How can I eliminate them?

Call a pest management agency to come out and trap them.

How can I make contact with Animal Control?

Contact the Isle of Palms Police Department at 30 J.C. Long Boulevard or 843-886-6522 and advise the dispatcher of your situation.

A raccoon hangs out in my back yard. Can you come trap it?

IOPAC will only trap animals that visually appear sick and, under certain circumstances, are doing damage to your property. Pour "Pine Sol" full-strength in a spray bottle and spray your attic, decks, and up under your house to elimintate any scent and they should not return.

I set a trap for a raccoon. Can animal control come out to get the animal?

No. Animal Control will only check traps that they have set.

Where can I donate towels, blankets and such for the animals that are kept in the kennels?

Drop them off at Isle of Palms Police Department, 30 J.C. Long Boulevard, Isle of Palms, 843-886-6522. Advise the dispatcher that your donation is for the kennels.