Fire
The Isle of Palms Fire Department consists of thirty (33) full-time positions including one (1) Fire Chief, one (1) Training Officer, one (1) Fire Inspector, three (3) Battalion Chiefs, three (3) Captains, twelve (12) Engineers, twelve (12) Firefighters, three (3) part-time positions and up to fifteen (15) volunteers. Equipment currently consists of (1) 2009 E-1 Rescue Pumper (1) 2003 E-1 95' Platform, (1) 2003 E-1 75' Aerial, (1) 2003 E-1 Rescue Pumper, (1) 1999 Rescue One Ladder Service Vehicle, (4) boats, (2) Yamaha Jet Skis, (3) ATVs, and (4) 4x4 pickup trucks.
The City of Isle of Palms is and island of 3.5 square miles. The year-round population is approximately 5,000 with an influx of day visitors and vacationers reaching upwards of 50,000 during the peak season. The City is a great place to raise a family and is also considered a retirement destination. The island has a diverse makeup of residents and visitors ranging from an average working class family, movie stars, famous race car drivers and famous politicians, including the President of the United States, to name a few. Single family residences on the Isle of Palms range from less than 1,000 square feet (pre-Hugo) to in excess of 8,600 square feet. In addition, there are many multi-level condos throughout the island.
To protect this diverse population, property and landscape, all members of the Isle of Palms Fire Department must be able to multi-task and adapt quickly to any given situation. All personnel receive specialized training. Many larger cities may have specialized teams to achieve the same goals the Isle of Palms crew on duty must accomplish. Off-duty personnel, volunteers, and mutual aid are requested if additional manpower or equipment is needed. The peak season routinely begins on Good Friday and ends on Labor Day.
The department responds to all types of emergencies including, but not limited to, the following: structure fires, brush fires, car fires, boat fires and other marine emergencies, hazmat calls, vehicle accidents, medical calls, and searches for missing people, animal rescues, water rescues in the Atlantic Ocean, Intracoastal Waterway and surrounding bodies of water. The department responds to two neighboring unincorporated islands, (Goat Island and Dewees Island) when resources are available to do so. The department's average response time is less than three (3) minutes. The department conducts fire inspections, fire prevention activities; inspection and installation of smoke detectors free of charge, and is very active in community service and public relations. The department gives and receives mutual aid throughout Charleston County. Teams of personnel from the Isle of Palms Fire Department have responded to provide relief to several areas devastated by hurricanes and floods.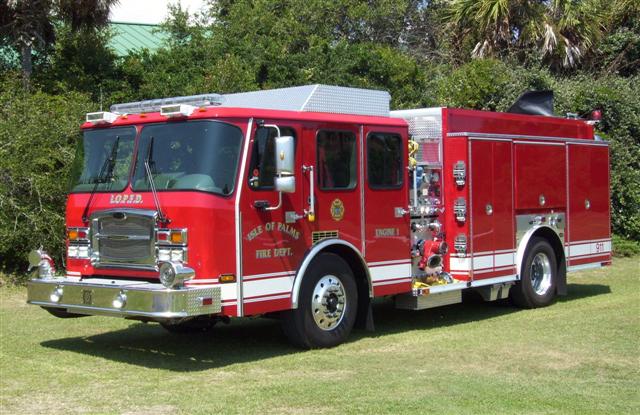 Contact Information
Fire Chief
Deputy Chief Fire Administration
Mailing Address
Post Office Box 508
Isle of Palms, South Carolina 29451
Public Safety Building
30 J.C. Long Boulevard
Isle of Palms, South Carolina 29451
Phone: 843-886-4410
Fax: 843-886-0097
Fire Station 2
44 Forty-first Avenue
Isle of Palms, South Carolina 29451
Phone: 843-886-4596
Fax: 843-886-0097
Emergency Phone
911
Incident Reports
Resources
Recent Departmental Reports