Municipal Court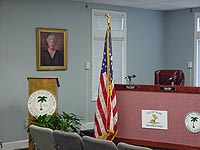 Tickets issued by an Isle of Palms Police Officer within the City limits of Isle of Palms will be handled through the City's Municipal Court. Failure to pay will be pursued as indicated within the law.
Those who do not wish to appear in court may post the bond amount of the ticket with the Municipal Court. Fines are due prior to the commencement of court on the assigned court date.
Due to COVID-19, we are not accepting in person payments. Citizens may pay parking tickets here. Court fines may also be paid online here.
Contact
Amy Lee, Clerk of Court
Email: amyw@iop.net
Phone: (843) 886-8946
Payment Options
Pay fines in person at the Municipal Court located in the Isle of Palms City Hall, 1207 Palm Boulevard. Cash, cashier's check, money orders, and credit cards are accepted Monday through Friday from 8:00 a.m. to 5:00 p.m. There is a minor bank fee of 1.7% + $1 per transaction for the convenience of using a credit or debit card.
A bank certified check, cashier's check or money order made payable to the City of Isle of Palms may be mailed to the City of Isle of Palms Municipal Court, Post Office Box 508, Isle of Palms, SC 29451. Personal checks can not be accepted as payment. Please include the original or a copy of the tickets with exact payment. If you do not have the ticket, be sure to include your name, ticket number (if available), and court date. Be sure to include your current mailing address.
Parking tickets may be paid online HERE.
Court Fines (traffic and municipal tickets) may be paid online HERE.
Forms