'Signal 30' Award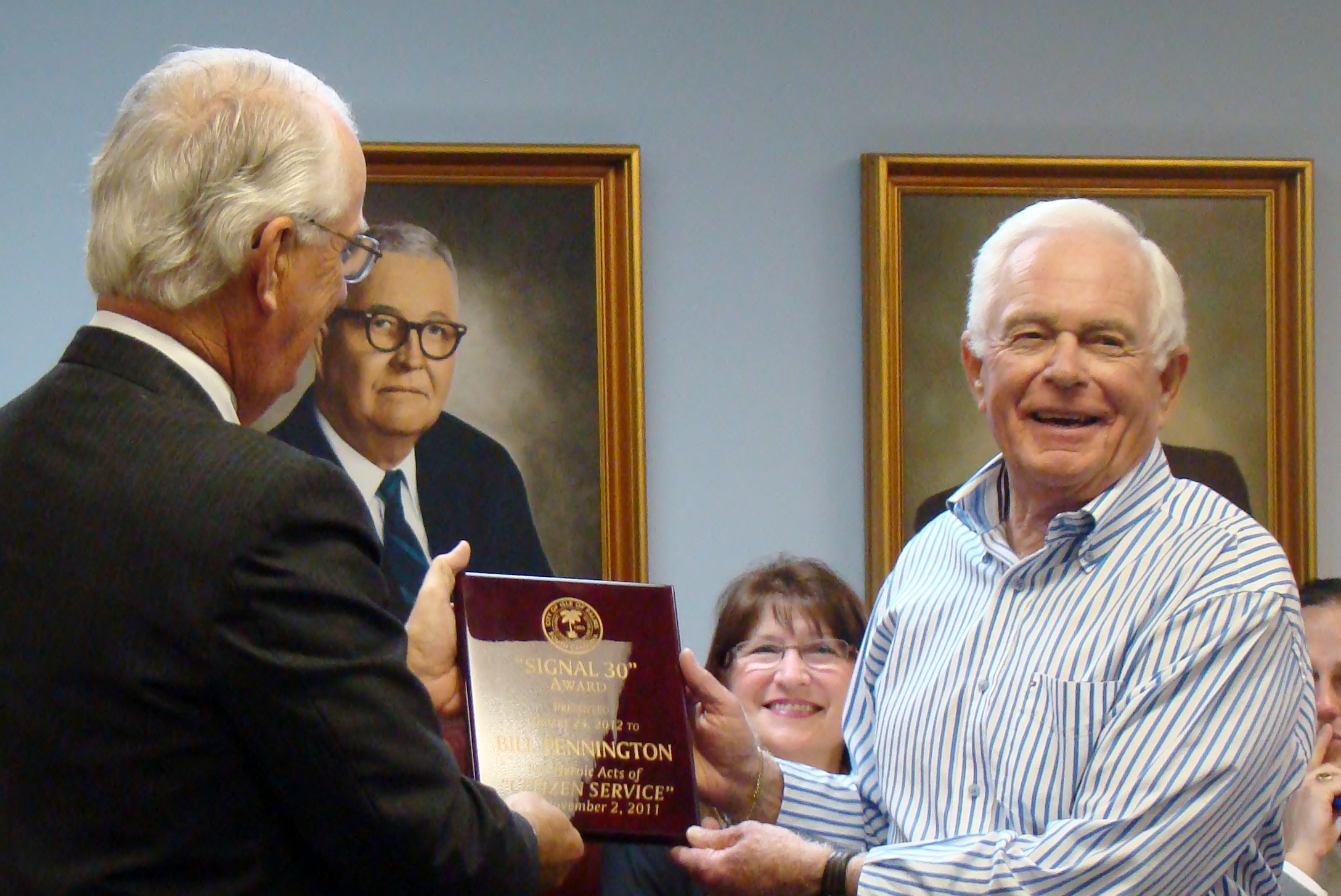 The City of Isle of Palms gives an award for special citizen service. This special award occurs on an extremely limited basis as a result of a recommendation. The decision to give a "Citizen Service" award is made by City Council and actual award is bestowed by the Mayor and City Council.
The award was developed in 2002. It is named the "Signal 30" award because "Signal 30" is an Isle of Palms Public Safety code for "citizen service." The "Signal 30" Award is presented by the Mayor at a meeting of City Council.
---
Date Bestowed
Name of Recipient
Date of Action
Reason Bestowed
October 25, 2022
Harold Hirshman
2022
For saving a neighbor's life.
July 27, 2021
Howard Hogue
2018-2021
For Hogue's efforts to keep the coast clean and draw attention to the litter crisis plaguing beaches, oceans and waterways. Read more here.
October 27, 2020
Terry McKenzie
2020
For putting out a fire in an occupied home, saving the life of the occupants.
July 28, 2015
Diane Oltorik
2011-2015
For creation of a medical loan closet to assist residents and visitors with special needs.
January 24, 2012
Bill Pennington
November 2, 2011
For performing CPR and saving the life of a person in cardiac arrest.

February 26,
2008

Jeremy Argabright
January 8, 2008
For preventing the spread of a house fire by alerting the residents and the Fire Department.

February 26, 2008

Dylan Campbell
January 8, 2008

For preventing the spread of a house fire by alerting the residents and the Fire Department.

October 25, 2005

Matthew Smith
September 17, 2006
For heroic action in pulling an Accident victim from a tractor trailer rig just before it burst into flames.
May 24, 2005
Jack Tracey
22+ years
For 22+ years volunteer coaching island youth sports: boys' basketball and baseball and girls' T-ball, softball and basketball teams.
June 25, 2002
Alex Mason
May 24, 2002
At age 13, he provided assistance to Emergency Responders in locating an injured 12-year-old boy at Hole 10 on the Golf Course.