Public Works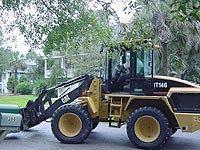 The Isle of Palms Public Works Department is located at 1303 Palm Boulevard and is responsible for the collection of garbage, yard debris, beach maintenance, street signs, ditch maintenance and overall right-of-way grooming of public property.
Read Public Works Committee meeting minutes and Public Works Department monthly reports.
Contact Information
Public Works Director
1303 Palm Boulevard
Post Office Drawer 508
Isle of Palms, South Carolina 29451
(843) 886-8956
(843) 886-5762 Fax

SCE&G-Street Lights Out
To report SCE&G street lights out in your neighborhood call 1-800-251-7234, option 4. Be prepared to give the address of the location and the SCE&G pole number.
Mosquito Abatement
Any Charleston County resident who is troubled by mosquitoes may contact the Charleston County Mosquito Control Division by calling (843) 202-7880. An inspector will respond to your request and seek out the cause of the problem.
Storm Water Ordinances
Ordinance 2007-14 (4 MB)
Ordinance 2007-15 (2 MB)
Ordinance 2007-16 (9 MB)
Ordinance 2007-17 (395 KB)
Drainage System Maps
IOP Marina, Morgan Place, Waterway Island